This article may contain affiliate links. Please read my disclosure policy.
This blank margarita mocktail recipe is quick and easy to make without the alcohol, yet still tangy, refreshing, and delicious.
I'm having a group of girlfriends over tonight for happy hour margaritas, fries, and salsa. But since about half of our crew tends not to drink alcohol at any given time for various reasons, I'll also be making classic margaritas and these margarita mocktails!
I started making virgin margaritas when I was pregnant last year, and was surprised to find that you could still get those margarita vibes even without the tequila or mezcal. To my taste, this helps make virgin margaritas extra lemony, so the drink is more of a sip and doesn't just taste like lime soda. I also like to add freshly squeezed orange juice, a hint of agave, and lightly effervescent sparkling water. And then of course, if you like good salt, it will always make this drink more festive!
I also like to muddle a slice or two of fresh jalapeño into my virgin margaritas, a step that seems to make any mocktail decidedly more complex and cocktail-like. But whether you make your drink spicy or not, it will still be wonderfully tangy, delicious, and refreshing.
Let's take a tour together!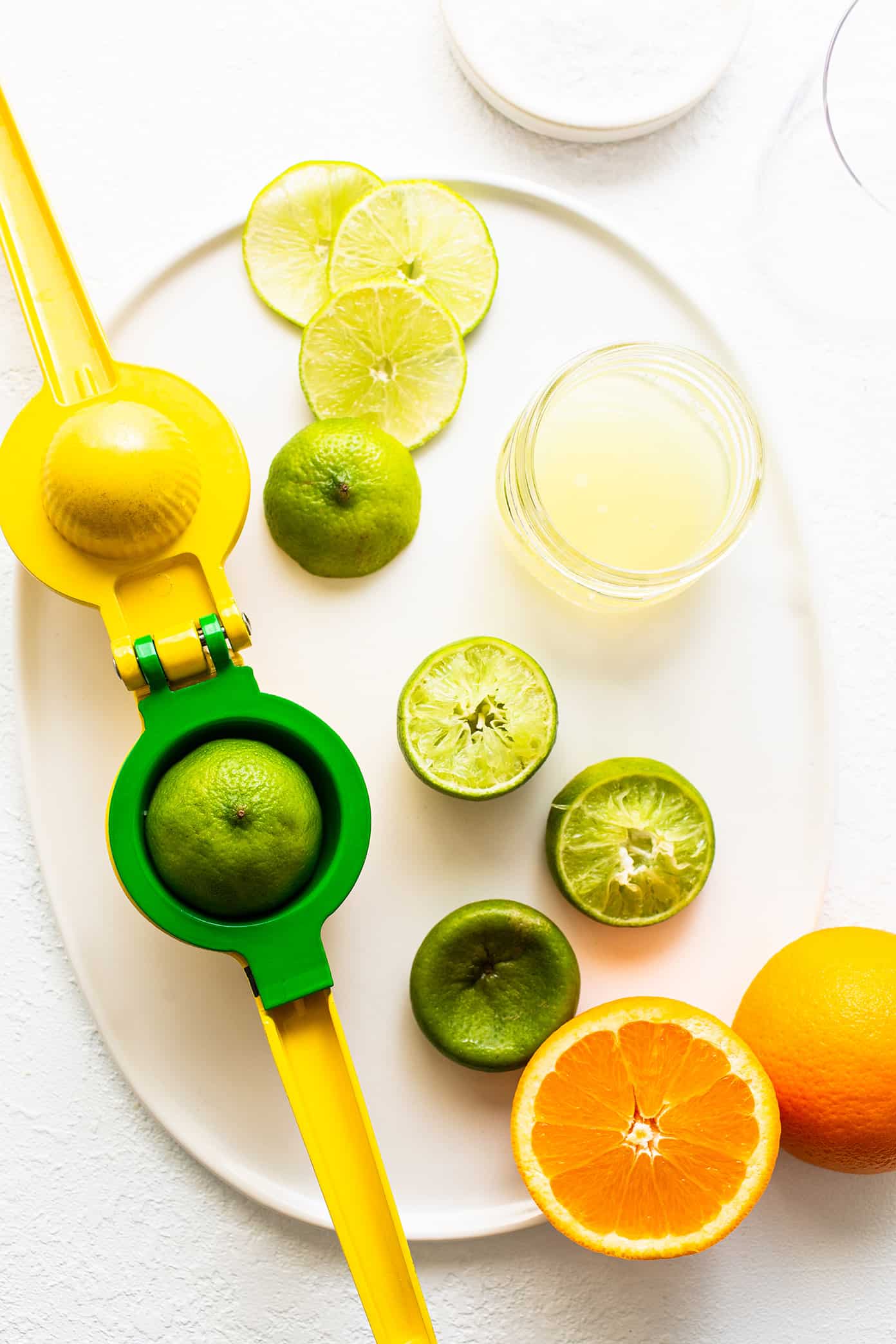 Margarita Mocktail Ingredients
Before moving on to the full recipe below, here are some notes on the ingredients you'll need to make a virgin margarita mocktail:
Lime juice: Freshly squeezed juice as always, and feel free to use a slice as a garnish. I'm a big fan of this juicer, it makes juicing lime juice a breeze!
Orange juice: I recommend squeezing a freshly squeezed orange or buying 100% orange juice.
Agave Nectar: This traditional sweetener adds a nice splash of agave flavor and sweetness to the mocktail. Feel free to add as much or as little as you prefer, to taste. Or you can also use any other sweetener you prefer, such as simple syrup or simple honey syrup.
Sparkling water: I'm a fan of making mocktail margaritas with Topo Chico, whose light mineral flavor and effervescence are absolutely delicious here. But feel free to use any variety of sparkling water or club soda you prefer.
Salt: If you want a salty edge, just run the juicy side of a lime wedge around the rim of the glass and dip it in coarse sea salt or margarita salt.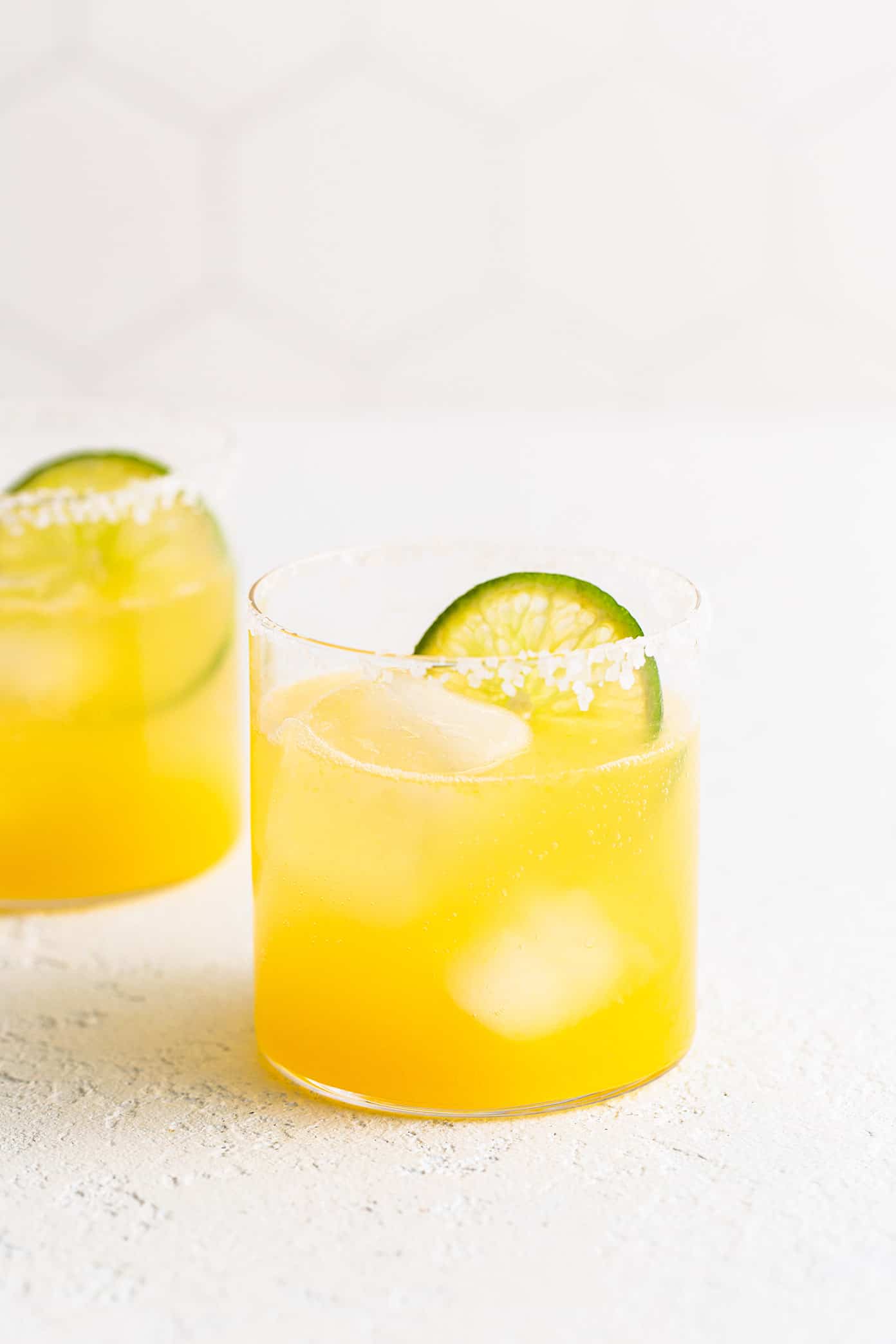 Recipe variations
Here are some fun variations you can also try on this virgin margarita recipe:
Use a different rim: I love mixing Tajín Seasoning with salt to make a spicier Chilli-Lime Salty Rim. Or if you want to go sweet and spicy, you can mix turbinado sugar (or any type of sugar) with salt.
Use a different fruit juice: Stir in another 100% fruit juice (such as cranberry juice, grapefruit juice, pineapple juice, etc.) in place of the orange juice to give this mocktail a different twist.
Add the jalapeno: To make a spicy margarita, mash a jalapeño slice or two into the cocktail.
Mix the margarita: Combine all ingredients in a blender and puree until smooth to make a frozen virgin margarita.
Make a Pitcher: See the notes under the recipe below for how to make a Margarita Mocktail Pitcher.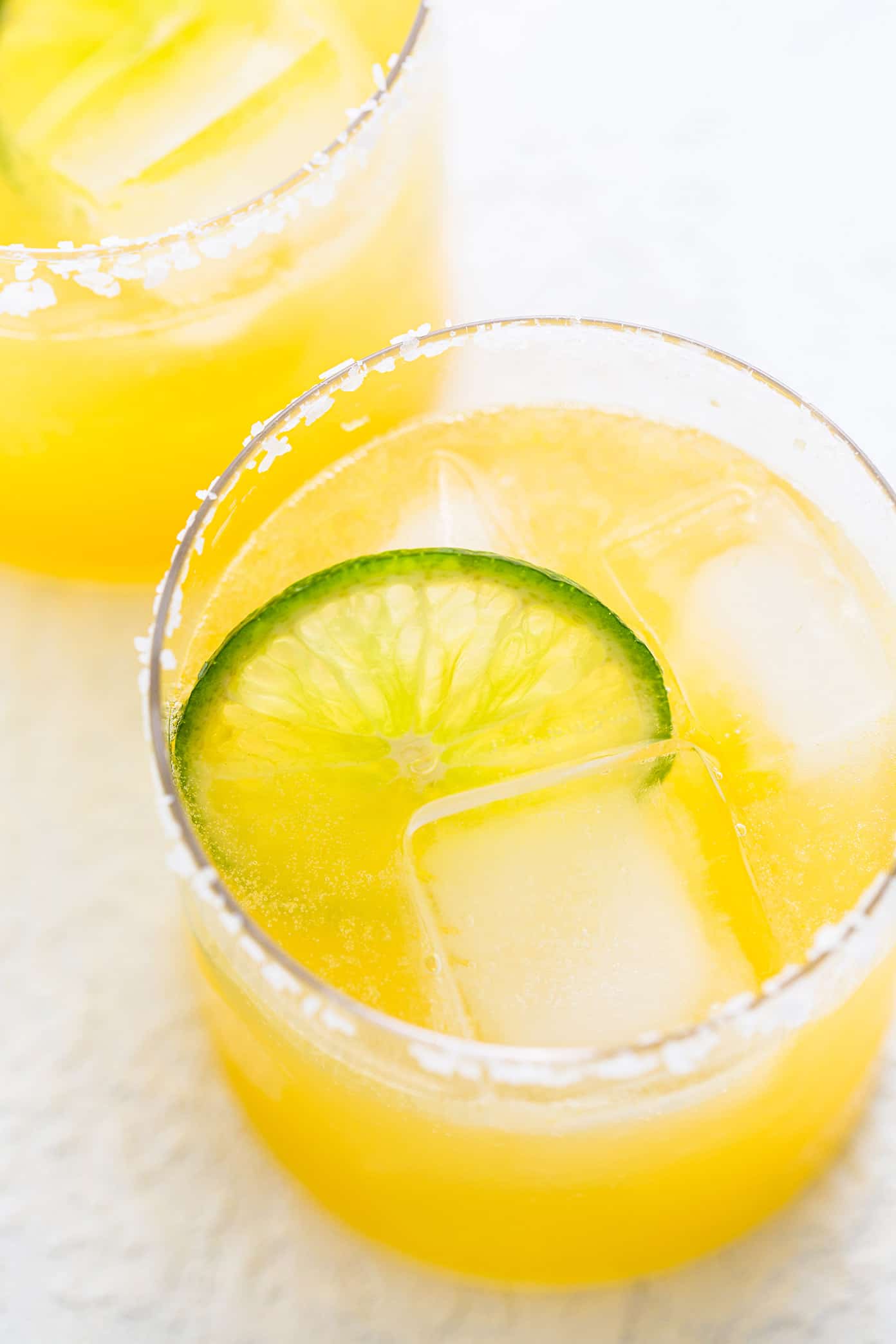 More mocktail recipes
Looking for more fun mocktail recipes to try? Here are some of my favorites…
To print
---
1 1/2 ounces

(3 tablespoons) freshly squeezed lime juice

1 ounce

(2 tablespoons) freshly squeezed orange juice

1

for

2

teaspoons of agave nectar

1/3 cup

sparkling water

(or club soda)

coarse sea salt (or margarita salt)for strapping

extra slice of lime, for garnish
---
Rim the glass (optional).

Cut a small notch in a lime wedge and run it around the rim of the glass. Dip the rim in a small plate of salt.

Mix the daisy.

Add the lime juice, orange juice, agave nectar and ice to the serving glass and stir vigorously for 15 seconds to combine. Drizzle with sparkling water and garnish with an extra slice of lime.

To serve.

Serve immediately and enjoy!
---
---
Remarks
Pitcher Instructions (4 Servings): To make a pitcher of margarita mocktails, combine 3/4 cup lime juice, 1/2 cup orange juice, 4-8 teaspoons agave nectar, and a large handful of ice in a large pitcher and stir vigorously for 15 seconds to combine. Briefly stir in 1 1/3 cups sparkling water. Then immediately pour into serving glasses over ice and garnish with an extra slice of lime.
Share this post