This article may contain affiliate links. Please read my disclosure policy.
This gnocchi, mushroom and kale soup is prepared with a delicious creamy garlic and rosemary broth and topped with freshly grated parmesan cheese. Easy to make in just 30 minutes!
I'm a firm believer in always keeping a pack of store-bought gnocchi in your pantry (or freezer) for a last minute dinnertime rescue. And this creamy gnocchi, mushroom and kale soup recipe is a perfect way to put it to good use. ♡
This cozy soup is easily made in just under half an hour or so, thanks to quick-cooking vegetables and gnocchi. And this creamy garlic and rosemary broth here is wonderfully comforting and cozy without being too heavy, which I really appreciate. We've enjoyed keeping this vegetarian recipe right here in our house, occasionally browning plant-based Italian sausages to incorporate into the mix as well. But if you want to add some extra protein, shredded chicken, bacon or traditional Italian sausages would also be fantastic options.
The last time we made this soup, my husband came back for thirds…lol, then called dibs on the leftovers the next day. So I sincerely hope you all love this recipe as much as we do!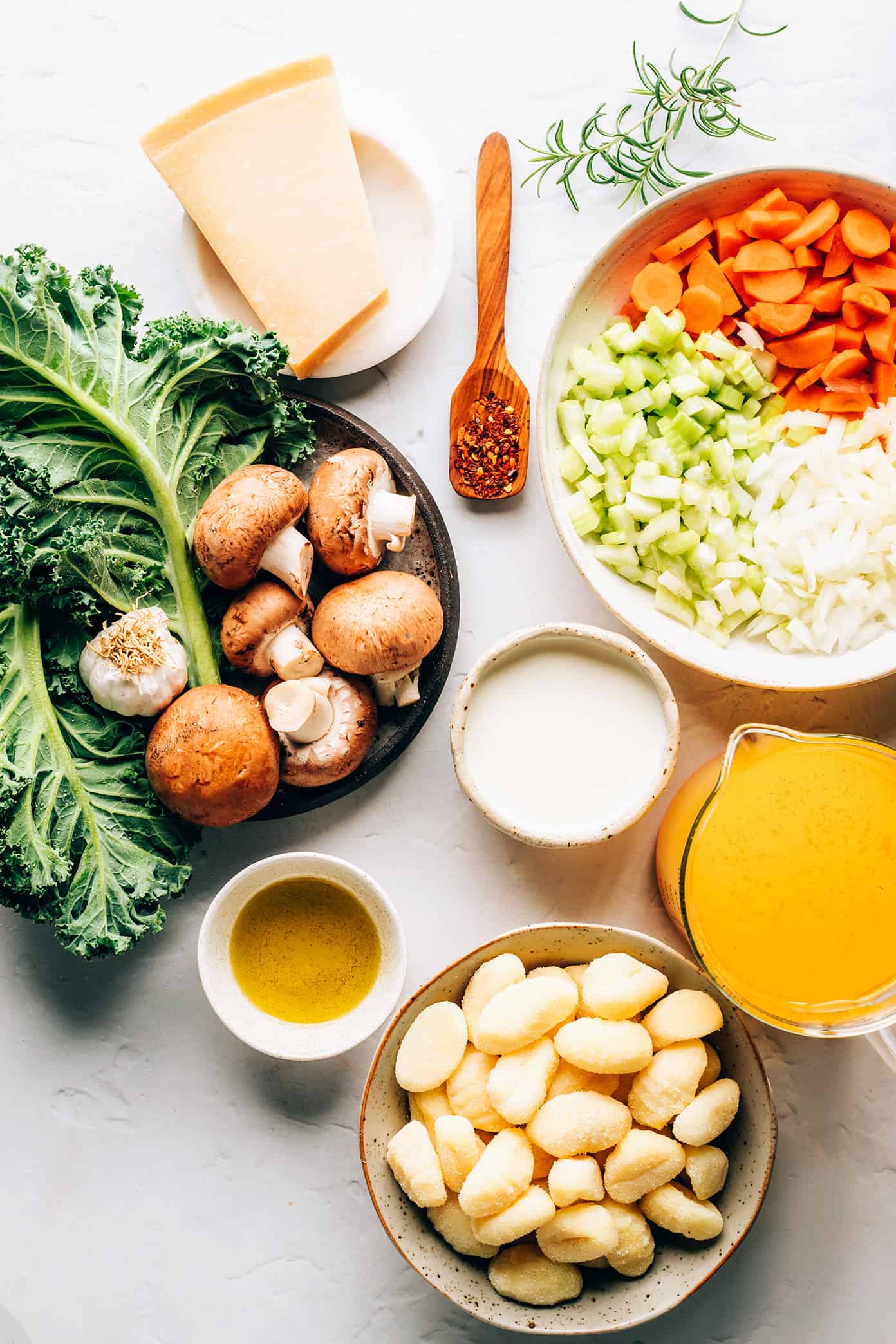 Gnocchi, Mushroom and Kale Soup Ingredients
Before we move on to the full recipe below, here are some quick notes on the ingredients you'll need to make this Gnocchi, Mushroom and Kale Soup…
Gnocchi: You'll need a packet of store-bought gnocchi for this recipe, which is a cinch to use because it cooks in just minutes. These days there are many different options you can choose from – potato gnocchi with or without gluten, cauliflower gnocchi, sweet potato gnocchi – so use whatever you like best!
Mushrooms: I added a pound of baby bella mushrooms, since they're usually what we keep stocked in our fridge. But feel free to use white button mushrooms, a mix of wild mushrooms, or whatever variety you prefer.
Kale: Traditional kale or lacinato (aka Tuscan or dinosaur) kale will work here.
Mirepoix: I used a classic blend of carrots, celery and onion as the base for this soup, but feel free to add any other vegetables you like.
Vegetables soup : Vegetable broth or chicken stock/broth will work.
Heavy cream: We will add a little touch at the end to make the broth creamy but not too heavy.
Seasonings: A simple mixture of chopped garlic, chopped fresh rosemary, crushed red pepper flakes, bay leaf, fine sea salt and black pepper will serve as a seasoning for this soup.
Parmesan cheese: And finally, I recommend topping each serving with a very generous sprinkling of freshly grated Parmesan cheese. Yum.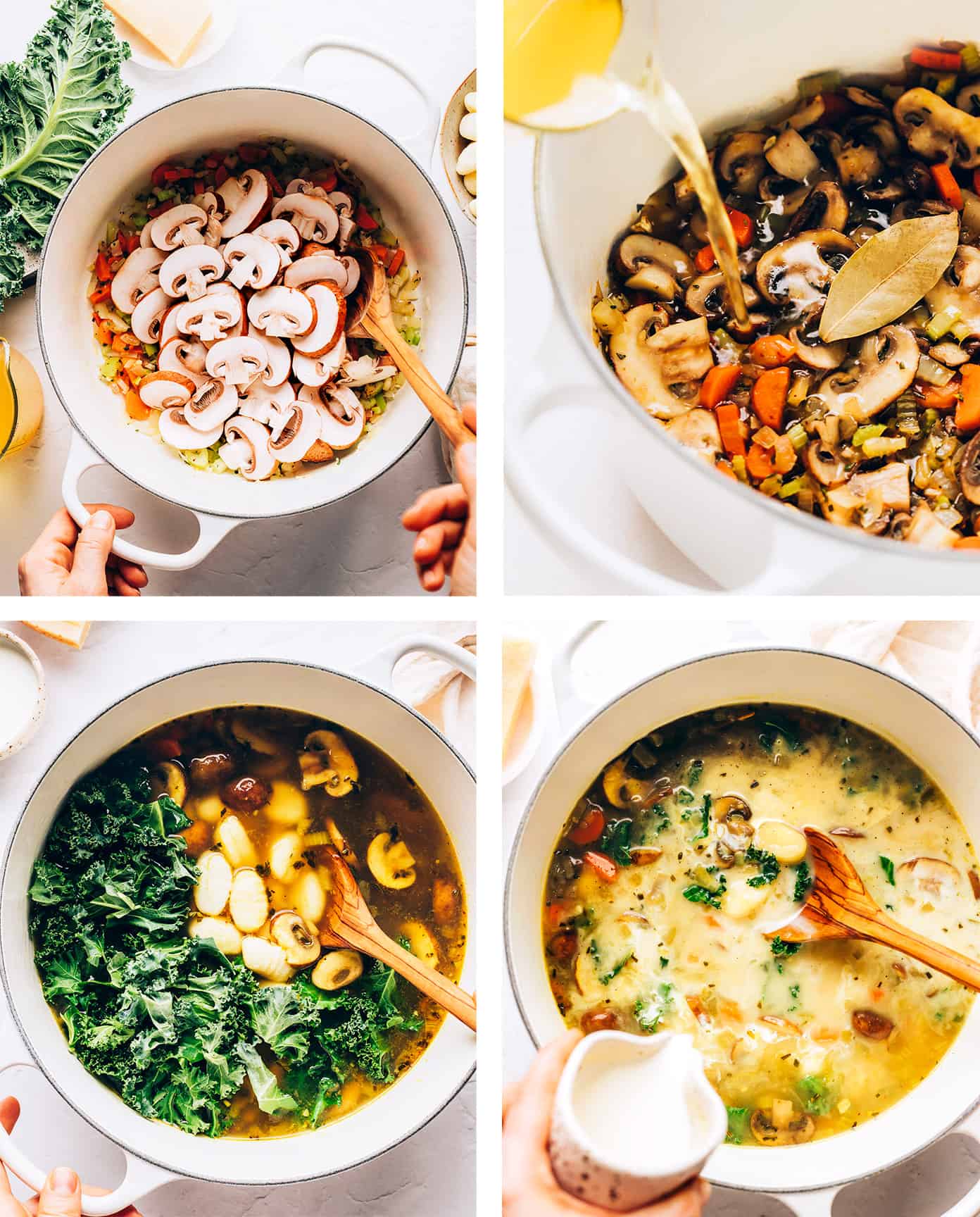 Recipe variations
Here are a few more ways to customize this soup if you like…
Make it gluten-free: Just be sure to look for a certified gluten-free gnocchi brand to make this GF soup.
Add a protein: Italian sausage, chicken, or bacon would all be delicious additions to this soup if you want to add some protein.
Add additional vegetables: Feel free to clean out your crisper drawer and add any other soup-friendly vegetables you have on hand.
Add the beans: If you want to add extra protein, feel free to add a can of rinsed and drained beans (such as navy beans, chickpeas, or kidney beans) to the soup as well.
Use homemade gnocchi: If you feel like taking it a step further, whip up a batch of my favorite homemade ricotta gnocchi to add to the soup. It's super soft and so delicious.
Use potatoes: Don't have any gnocchi on hand? Feel free to add a pound of diced potatoes instead and simmer until tender.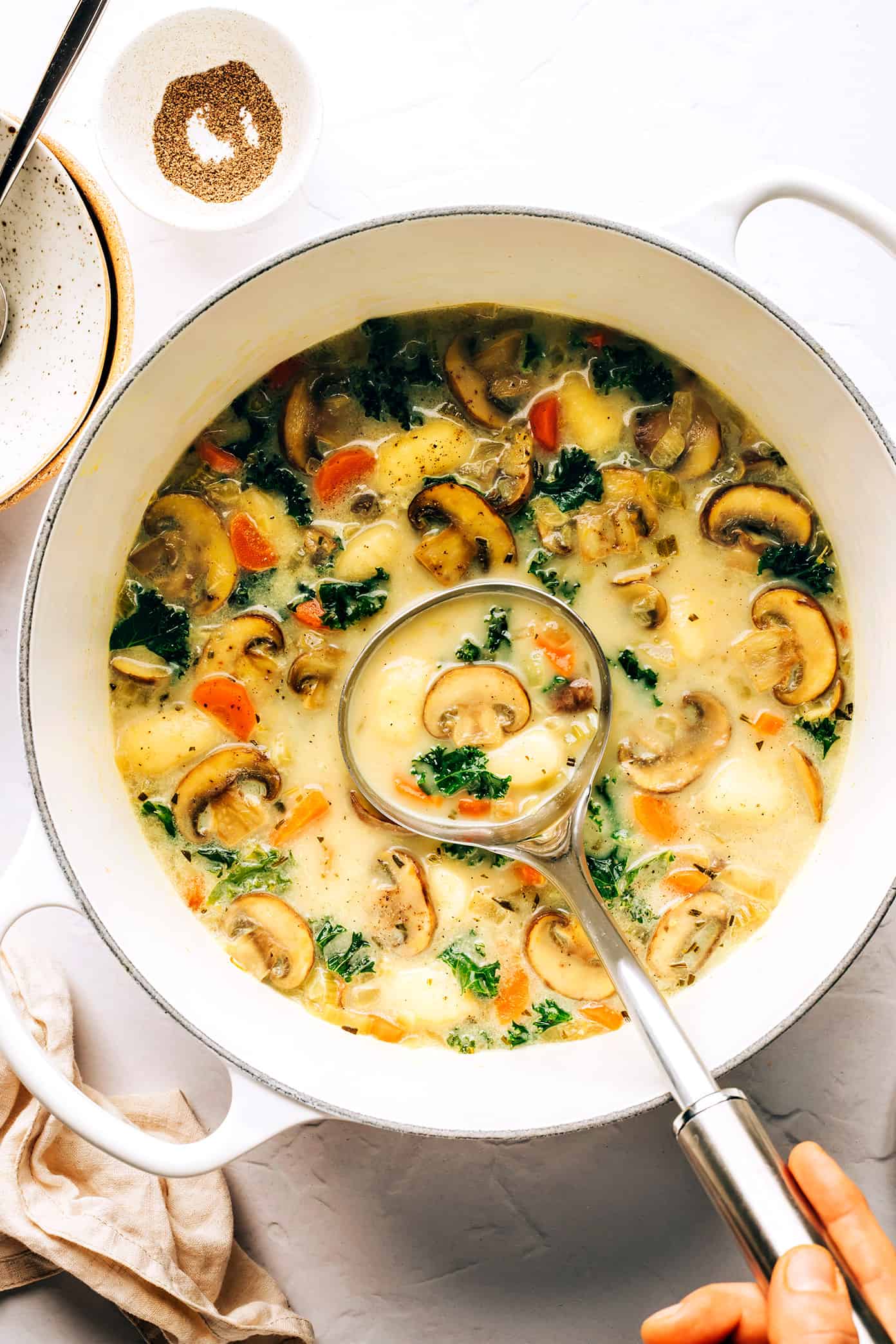 Favorite Vegetarian Soup Recipes
Looking for more cozy vegetarian soup recipes to try? Here are some of my favorites…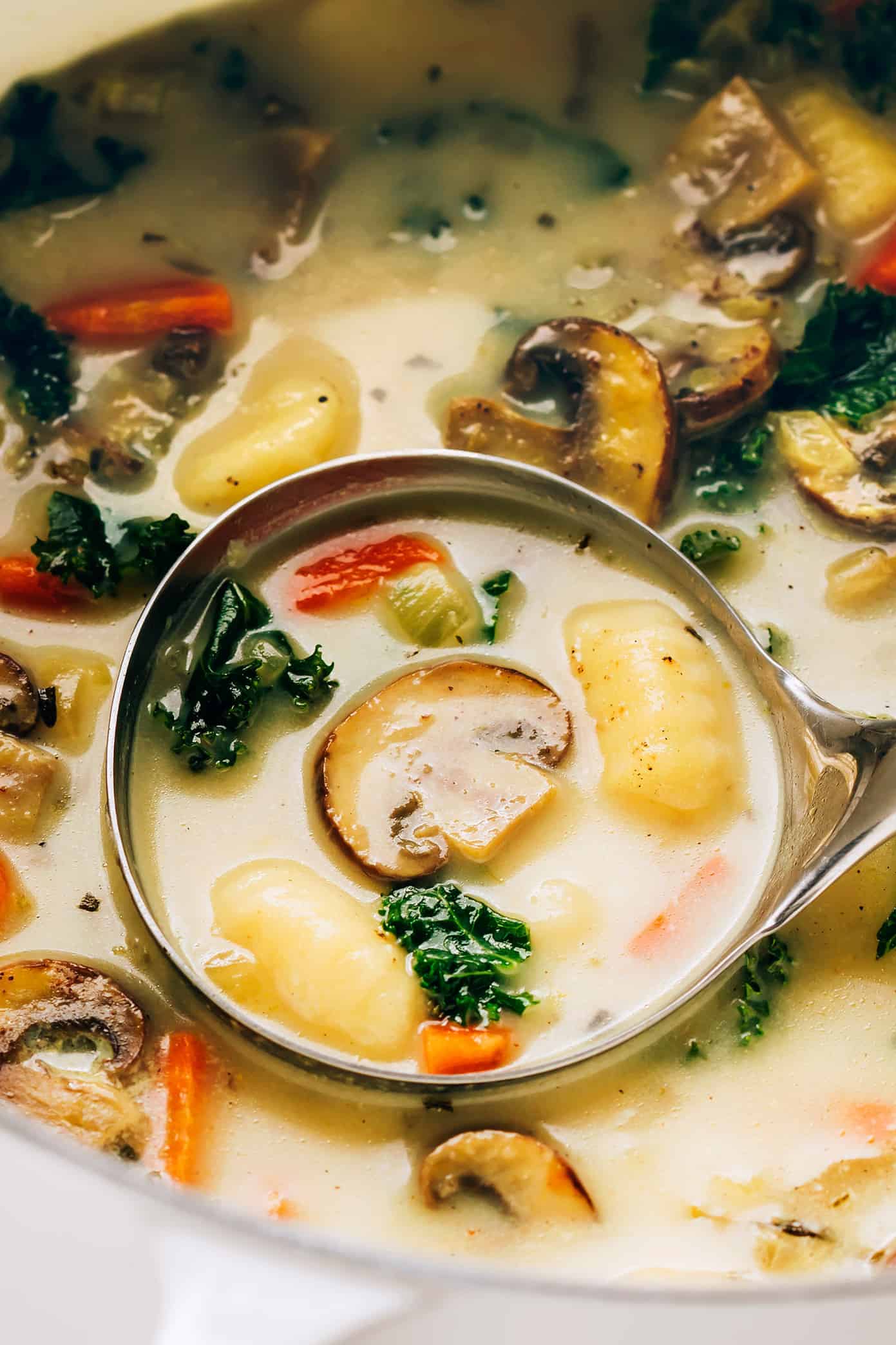 Impression
---
The description
This gnocchi, mushroom and kale soup is made with a creamy garlic and rosemary broth and can be ready in just 30 minutes.
---
2 tablespoons

olive oil

1

medium white onion, diced

2

medium carrots, diced

2

celery stalks, diced

5

minced garlic cloves

2 tablespoons

finely chopped fresh rosemary

1/4 tsp

crushed red pepper flakes

1

mash the mini bella mushrooms, sliced

6 cups

vegetables soup

1

Bay leaf

1

(16 ounces) package of uncooked gnocchi

4 cups

(on

4 ounces

) finely chopped fresh kale

(hard rods thrown away)

1/3 cup

heavy cream

fine sea salt and freshly ground black pepper

freshly grated parmesan cheese, to garnish (optional)
---
Sauté the vegetables.

Heat the oil in a large pot over medium-high heat. Add onion, carrots, celery and sauté for 5 minutes, stirring occasionally. Add garlic, rosemary, crushed red pepper flakes and sauté for 1 minute, stirring occasionally. Add mushrooms and sauté for an additional 5 minutes, stirring once per minute.

Simmer.

Add vegetables, bay leaf and stir to combine. Continue cooking the soup until it simmers. Then cover, reduce the heat to medium-low to maintain the simmer and cook for 5 minutes.

Cook the gnocchi and the kale.

Stir in gnocchi and kale until combined. Cook for 2-3 minutes, or until the gnocchi are completely tender.

Season.

Stir in heavy cream until smooth. Discard the bay leaf. Then taste and season the soup with salt and black pepper as needed. (Feel free to add more cream if desired.)

To serve. Serve hot, garnished with Parmesan if desired.
---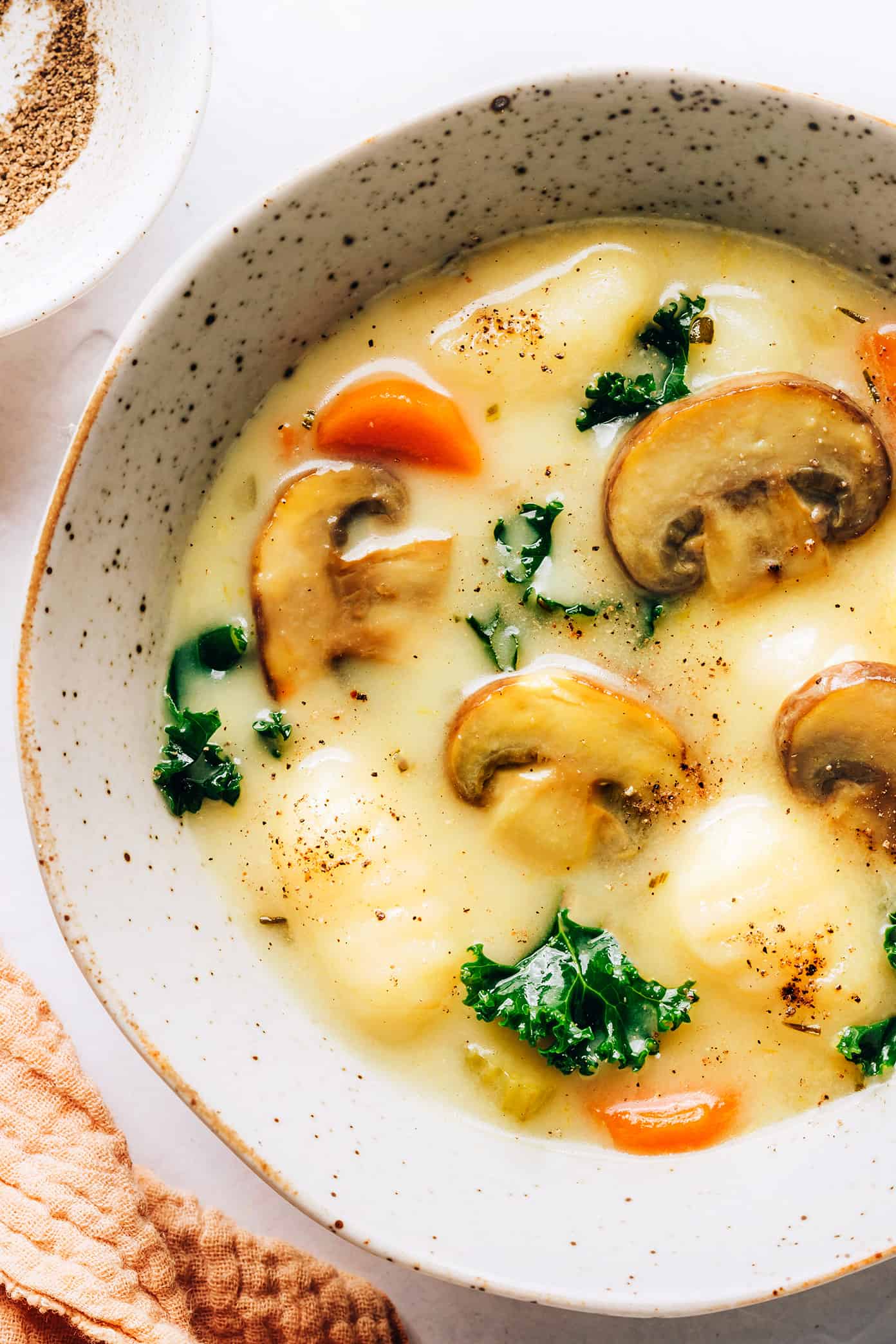 Share this post